Widower Malcolm Kay backs Willow Burn Hospice campaign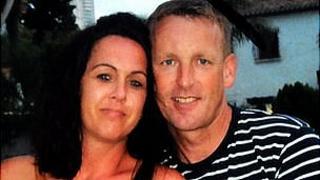 A grieving father has helped plant a new wood as part of a bid to raise hundreds of thousands of pounds for the hospice which cared for his dying wife.
Olga Kay was just 40 when she died of cervical cancer in Willow Burn Hospice in Lanchester, County Durham, in March.
Her husband Malcolm, 48, from nearby Stanley, planted a tree at a new wood in memory of his late wife.
It is hoped the wood will attract sponsorship of £500,000, which will be used to help rebuild the hospice.
The Forestry Commission has pledged a £22,116 grant towards creating the 10-acre mixed woodland on land donated by Sir Tom Cowie, the late Sunderland Football Club chairman.
'Incredible enthusiasm'
More than 10,000 trees have so far been planted, transforming the landscape and providing visitors with a "place to reflect and remember".
The hospice, which opened in 1989, offers palliative care to residents in the Derwentside and Durham City area.
Mr Kay said: "Willow Burn cared so well for my wife. Olga comes from a large family and they were able to spend her final days with her thanks to the hospice. Our daughter, who is 12, also spent a lot of time here.
"If Olga had been in a hospital we wouldn't have been able to spend as much time with her."
Helen Mills, chief executive of the hospice, said: "This is the first woodland to be created by a charity in support of its work and it is based near to the communities that we serve.
"We hope companies and individuals will sponsor elements of the woodland so we can allow Willow Burn to continue."
Rachel Sparks, from the Forestry Commission, said: "There has been incredible enthusiasm for this scheme locally.
"It will provide people with a way of showing their support for the hospice's rebuilding plans, while also creating a cherished woodland and haven for wildlife."