Lance Armstrong: Cycle cheat's books glued to the floor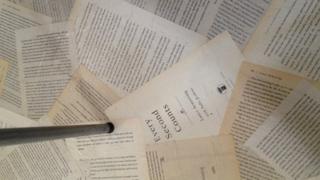 With glue, varnish and pages torn out of hundreds of his books a bicycle shop is putting disgraced cyclist Lance Armstrong "on the floor - literally".
In an interview with Oprah Winfrey in January the seven-time winner of the Tour de France cycle race confessed to taking performance-enhancing drugs each time.
His autobiographies became a focus for fans' disapproval: some demanded their money back, some launched legal action.
Seeing a sudden influx of the books in his local charity shop, Newcastle shop manager Andrew Straw had an idea.
He appealed on social media sites Facebook and Twitter for unwanted copies.
"Within days there were books flooding in from all around the country," he said.
'Being a cheat'
With about 200 copies came DVDs, posters, socks, gloves and - "quite a symbolic gesture" - a signed yellow jersey.
Mr Straw, who runs The Cycle Hub, was surprised at the response.
"We didn't put a freepost address on anything," he said. "People spent money to send their books in."
He has ripped pages out of the books and varnished them to the floor, making the point that a man with the "world at his feet" could end up with "the feet of the world on top of him".
It is part of The Late Shows, a cultural programme that has galleries, studios, theatres, museums, shops and landmarks staging special events and opening until near midnight.
Visitors can write comments on the remaining pages, which will also be stuck to the floor.
"Some people will be pro him still, for what he's done for cancer charities," Mr Straw said.
"Some people will just be anti him for being a cheat."