Charles Bonnet Syndrome sufferer talks of hallucinations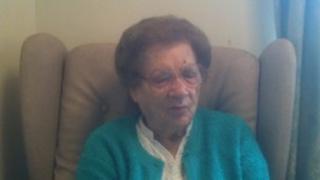 Lillian Boyd had been blind for more than 20 years, when she suddenly started seeing things.
It came as some surprise when two small black Labradors apparently appeared in her County Durham home, still more when she started to see little girls in pretty dresses, and men she did not recognise.
At the age of 86, her first reaction was the fear that if she talked about them people would think she was losing her mind.
"I was frightened to send for the doctor, because I thought, he'll think I've got dementia, my age," she said.
What she has got however, is Charles Bonnet Syndrome (CBS), a condition caused by eye disease, rather than psychiatric problems.
The hallucinations make no noise and you cannot feel them, but they can be a compelling sight.
"You cannot describe it very well. It's a horrific thing," Mrs Boyd said.
"I've had horses, a cow, men. And when you try to get up and walk about, even though this is in your eyesight, you can't move, because you think you're going to knock these people over.
"They're real in one way, and yet when you get a good look at them - I just don't know - I cannot describe the word for them. Unreal and yet they're there - they seem real."
She said the uninvited guests would often "stay around all day" and were less than welcome.
'Bizarre images'
The syndrome occurs in people whose eyesight has deteriorated, when parts of the brain associated with vision begin to create their own images, having been starved of stimulus from the optic nerve.
Dr Dominic Ffytche, a senior lecturer at King's College London's Institute of Psychiatry, and an expert in CBS, said there were more than 200,000 cases of the condition in the UK.
However, with people often reluctant to admit having hallucinations, it is impossible to tell exactly.
It took Mrs Boyd a couple of weeks before she decided to speak about what was happening.
Luckily, her doctor had come across the condition before and was able to reassure her that the hallucinations were not psychiatric.
"He mentioned Charles Bonnet and he said he'd done the research on it, because his father had it," Mrs Boyd said.
Dr Ffytche said there were various ways to distinguish CBS from hallucinations caused by psychiatric problems.
He said: "Hallucinations caused by eye disease tend to be quite detailed, with patterns and people in elaborate dress. They're very bizarre images.
"People don't mistake them for reality and they don't see people they recognise."
He said research around the condition is constantly developing.
'Wonderful relief'
"What we don't know yet is why some people never get it," he said. "The latest research suggests it could be the way the brain is wired - the way it makes connections," he said.
"It could be that your brain is adapting better to vision loss if you're having hallucinations."
There is no consistent cure for CBS, but medication used for other conditions, including epilepsy, dementia and schizophrenia, have been known to work on some people.
Dr Ffytche believes awareness of the condition is now much greater than it once was.
"It used to be that no one knew about it, but now it's going the other way," he said.
"People's hallucinations are being put down to eye disease and other causes are being missed."
A study carried out by Dr Ffytche and his colleagues found that in about 20% of cases, people actually enjoyed seeing the images, while about half were seen as neutral and the other 30% were unpleasant.
Mrs Boyd's hallucinations, which have been visiting her now for as long as nine months, definitely fall within the final group.
She said she was more comfortable now she knew her visions were not signs of dementia, but she still described them as "disturbing".
Thankfully, she had had some recent respite.
"I've not had any for two days, and I'm thinking, 'Oh thank god for that'. It's been a wonderful relief when they're not there," she said.