Souter Lighthouse seeks vessels to host foghorn requiem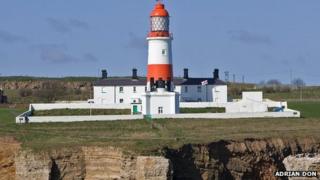 A flotilla of ships are being sought by a Tyneside lighthouse to take part in a unique musical performance.
Souter Lighthouse in South Shields will be the focal point of the Foghorn Requiem, to be performed in June.
Part of the Festival of the North East, the specially commissioned work will feature three land-based brass bands from the area and an armada of ships.
The organisers of the festival are calling for vessels of all types and sizes to take part in the event.
Billed as the first musical score created for foghorns, pioneering technology will enable the ship horns to be "conducted" from shore.
Maritime community
Project organiser Lise Autogena said: "We're really excited to have so many sectors of the maritime community taking part and it would be great to hear from even more.
"Whether you're the skipper of a large commercial vessel, a small pleasure craft or a spectacular tall ship we'd love you to come along."
The work has been commissioned by South Tyneside Council and the National Trust, which took over the running of Souter following its decommissioning in 1988.
The requiem, which will be performed on the 22 June, was devised by artists Lise Autogena and Joshua Portway, with the score written by British composer Orlando Gough.
Opened in 1871, Souter was the first lighthouse in the world designed and built to be powered by electricity, with its foghorn kept in working condition by a dedicated team of local volunteers.