Barry Crackett meets Ryan Compton, the boy whose life he saved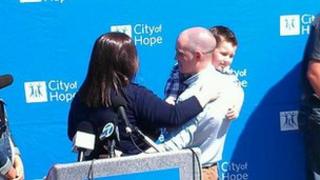 A bone marrow donor from Northumberland has flown to the US to meet the schoolboy whose life he saved.
Barry Crackett met eight-year-old Ryan Compton and his family in Los Angeles, after they sent him a letter of thanks.
Ryan, said to be making a remarkable recovery from blood cancer, greeted him with a hug.
Mr Crackett, from Widdrington Station, found out two years ago he was a match. He flew to the US just a month after the birth of his first child, Sol.
The 34-year-old signed up to the Anthony Nolan donor register in 2002 after watching a television appeal to help a young girl with cancer.
Ryan was on chemotherapy for three-and-a-half years before it was decided a transplant was necessary.
His family said he was "full of beans" after the operation.