Flamingo chicks at Washington Wetland Centre join flock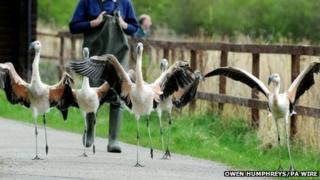 Five flamingo chicks have joined a flock of their fellow birds, after being hand-reared at a Wearside wildlife reserve.
The Chilean birds have been introduced to the adult group at the Washington Wetland Centre after eight months of human care.
The chicks were brought in after the flock consistently failed to breed.
It is hoped they will give the adults a "false sense of achievement" and encourage them to produce young.
They arrived as eggs in September from the Gloucestershire headquarters of the Wildfowl and Wetland Trust (WWT), which runs the Washington centre.
Aviculture manager Owen Joiner fed the chicks with a mixture of baby porridge, sardines and egg yolks to mimic a flamingo's "rich saliva".
"Hand rearing flamingos is a delicate matter," he said.
Mr Joiner also supervised "sunbathing sessions" when the weather was warm enough, to make sure they got enough vitamin D.
The chicks are now nearly 4ft (1.2m) tall and weigh an average of 8lb (3.5kg).
Mr Joiner said the adults had failed to breed for the fifth season in a row last year, despite "displaying, flirting, mating and nest-building".