Emma Lewell-Buck: Home roots of new South Shields MP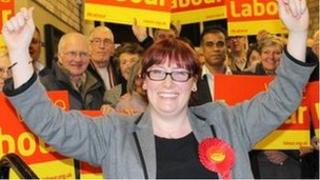 The first woman MP for South Shields has made much of her local roots.
From a family of shipyard workers, Emma Lewell-Buck has lived in South Tyneside all her life, and insists she is "incredibly passionate" about the area.
She is also a direct descendant of local hero William Wouldhave, who designed a self-righting vessel, thought by some to be the first ever lifeboat.
"I haven't just turned up here for this by-election," she said.
Now 34, Mrs Lewell-Buck studied politics and media studies at Northumbria University.
'So proud'
She went on to become a social worker, specialising in child protection.
In 2004, she was elected as a local councillor for the Primrose ward in Jarrow, which she continued to represent up to the by-election.
Almost immediately after securing victory, she tweeted: "Thank you #southshields. So proud to be your new MP. And so proud to make history as the 1st woman MP for the constituency."
She will be hoping to follow in the footsteps of South Tyneside's first female MP Ellen Wilkinson, who went on to become one of the first women to hold a position in the cabinet, with posts including Minister of Education during the 1940s.