Ospreys back in Kielder, Northumberland for fourth year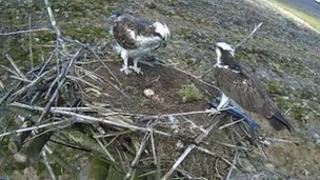 Ospreys have returned to a small breeding colony in Northumberland for the fourth year in a row.
One of the females has laid the first two eggs of the season.
The migratory birds had not been seen nesting around Kielder Water for nearly 200 years when they recolonised the area in 2009.
Two nests have since been established and volunteers say some of the same birds have returned, although a new male moved into one nest last year.
Kielder has produced 12 young ospreys over the last four years.
'Great enthusiasm'
Since their return, the fish-eating birds of prey have generated a lot of interest, and volunteers and the Forestry Commission are now providing daily updates via a blog.
The two nests also have webcams taking close-up pictures.
A watch point at Kielder will also open from when the eggs are due to hatch until the young fledge.
Malte Iden, Forestry Commission recreation ranger at Kielder Water and Forest Park, said the ospreys' return had been met with "great enthusiasm" and he was "hopeful the chicks will soon be on their way".