Charity runner Mark Allison to take on Australian outback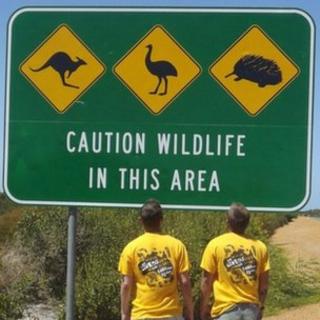 Last year was a quiet year for Geordie Marathon man Mark Allison, compared to 2011 when he ran 3,100 miles across America.
More than a year on, the 41-year-old is still paying the price for his gruelling endurance test which raised more than £100,000 for charity.
Many of the nerves endings in his feet "died" or were severely damaged.
He now has to tread carefully in bare feet because he may not even feel it if he stepped on glass.
Mark, who uses the fund-raising moniker Run Geordie Run, was away from his son Jack, now 10, for more than 100 days.
This time his challenge will be shorter in duration, 70 days, but is no less extreme and, some may say, foolhardy.
'Blisteringly hot'
In October he will set off on a 2,600-mile route across the snake and spider-filled, blisteringly hot Australian outback.
Once more the motivation for Mr Allison is charity and to honour the memories of loved ones - his mother who died in 1995, father Terry, who died of cancer in 1988, and his brother David, who died from a brain haemorrhage in 1998.
By his own admission he used to be an "18st obese Geordie who loved bacon sandwiches, football and pies", before becoming a charity runner bitten by the running bug.
He will begin his journey in Perth, Western Australia, on 16 October and hopes to end it by running into the Pacific Ocean at Bondi Beach in Sydney on 24 December.
He is so confident in his ability he even has a target time and hopes to be running into the water at 07:30 GMT.
To do it he will have to clock up at least 41 miles a day.
He said: "I know this is risky. The heat will be incredible and I will probably lose about four-and-a-half stone doing it.
"We will have to take anti-venom medicine in case of snakebites. I will also be burning about 8,000 calories a day so will have to eat regularly.
"But I'm not frightened of beasts or creepy crawlies - there will be adventures on the way - I'm afraid of letting people down. The charities are my motivation."
He will have to quit his job as an engineer and will take a "leap of faith" in the hope of finding another when he gets back to the UK.
So far he has pledges of more than £11,000 and hopes to raise at least £50,000 for the Sir Bobby Robson Foundation and the Children's Foundation.
He also does not dare see his doctor - he has not seen him for years.
He said: "He would not recommend me going ahead with this."
Mr Allison's personal trainer David Fairlamb is also seriously worried.
He said: "Mark is mentally the strongest person I have ever met, but I'm having sleepless nights.
"This is basically a marathon, then a half marathon then a few miles - but every day for 70 days.
"I saw how much Mark suffered during the America run. When he said 41 miles a day I thought he was crackers and it scares me. I've had sleepless nights.
"To those who are not athletes it is just a number, but runners know to do this in Australia in its summer is outrageous. Mark has to be in peak condition."
Mr Allison and his team of four will stay in a cramped motorhome during the challenge.
Every morning he will bulk up on two bowls of porridge before running more than eight hours, stopping for meals and snacking on energy bars.
He will also have to stop to Skype his son and keep fans up to date with his blog.
He added: "I've still got to lose a bit more weight and find more sponsorship. So I'm trying to focus on these priorities, rather than what is ahead."