Alcoholic councillor David Potts dies after battle with addiction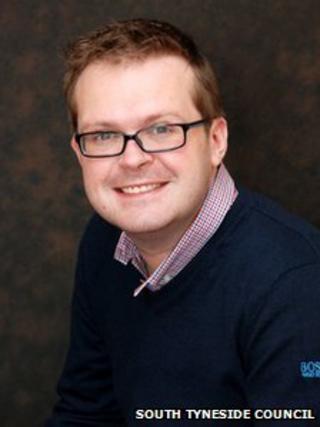 A South Tyneside councillor who had battled alcoholism has died at the age of 30.
Councillor David Potts, died in hospital on Sunday afternoon after receiving treatment for his addiction.
Mr Potts became a Tory councillor for Cleadon and East Boldon when he was 21, before joining the United Kingdom Independence Party last year.
South Tyneside Council leader Iain Malcolm said he was an "immensely talented" young man.
In 2011, Mr Potts left the Conservative Party to concentrate on recovering from alcoholism.
He said: "It will come as no surprise to many of you that I am a recovering alcoholic.
"I recognise that public life is of no benefit to my recovery, and in turn I am of no benefit to public life. I must step aside.
"It is now my focus to concentrate on saving my life and helping other alcoholics within our region to deal with this evil illness in a constructive way. There is hope for all of us."
'Remorseful and regretful'
Mr Malcolm said: "David Potts was an immensely talented and highly educated young man whose life took a tragic turn as he battled his alcohol addiction.
"As a young councillor he was robust and challenging in debate and enjoyed the cut and thrust of political life. He had a wicked and sometimes mischievous sense of humour which I shall miss.
"A colourful but often controversial figure, his illness was without doubt the cause of some of his more unconventional behaviour for which he was always remorseful and regretful.
"He was devoted to his family and the thoughts and prayers of the council are with his parents and family at this sad time."