Heiress Janet Brown murder: Suspect held in second case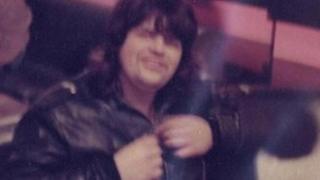 A man arrested on suspicion of murdering a missing heiress has been arrested in connection with a second suspected murder, police said.
Northumbria Police believe Janet Brown, 43, who disappeared eight years ago, was murdered and have been searching farmland for her body.
A 59-year-old arrested Tynedale man was arrested on suspicion of her murder.
Police said they have arrested the same man on suspicion of murdering Michael Straughan who disappeared in 1992.
The 59-year-old man was arrested and bailed in December in connection with Miss Brown's murder.
The force also confirmed it had arrested a 44-year-old man on suspicion of Mr Straughan's murder.
Both were later bailed pending further inquiries.
Cases 'not linked'
Miss Brown inherited a £1m fortune from her parents, which has so far remained untouched. Police have recently been searching farmland near Sparty Lea, Northumberland.
A police spokeswoman said: "As searches of land near Sparty Lea progress for evidence in the Janet Brown case, officers today arrested a 59-year-old Tynedale man and a 44-year-old Newcastle man on the suspicion of murder of Michael Straughan.
She said however, there was no obvious link between the two cases.
"While we appreciate Mr Straughan's disappearance was more than 20 years ago, we would ask that anyone who has information about him or knew him to get in touch," the spokeswoman added.
The case of Mr Straughan, who was 38, was featured on the BBC's Crimewatch programme but there were no sightings of him after he was seen in two Newcastle city centre pubs.
Ms Brown was last known to be living in the Lowgate area of Hexham.