Missing Pamela Jackson: Sisters make public appeal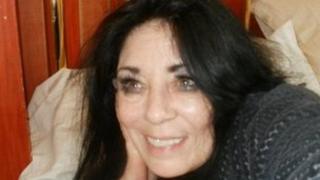 The family of a missing County Durham grandmother, whose partner has been charged with her murder, have appealed for help in finding her body.
Pamela Jackson, 55, was last seen at her Chester-le-Street home on 2 March. The surrounding area, including the River Wear, has been searched.
Adrian Muir, 50, from Halifax, has been charged with murder.
Ms Jackson's sisters appealed to the public for help so the family could "do the right thing and bury her".
Ms Jackson, who had three sons and four grandchildren, was the eldest of four daughters who grew up in Newcastle.
'Proper send-off'
Her sister Deborah Leighton, from Consett, said: "She was an important part of our family as she was the oldest sister. As the youngest sister, I always looked up to her.
"She looked after us as my mam was always working. I just miss her.
"She needs to come home so we can do the right thing and bury her. We need to give her a proper send-off instead of just wondering where she is."
Her other sibling Marion Elsinor said: "It's an ongoing nightmare. It is out of character for her to go off and not to tell anyone where she would be."
Mrs Leighton said, at first, the family assumed she would turn up safe and well after a couple of days but, when she was still missing on Mother's Day, they feared the worst.
An extensive search of the River Wear in Chester-le-Street and local woodland was unsuccessful.
Durham Police said the search was now focusing on a large area of moorland near the M62 in West Yorkshire.
Mrs Leighton, who works with apprentices at New College, Durham, said: "I would like to appeal to the public on behalf of the family for anyone, if they saw Pamela between 2 March when she disappeared and 8 March to come forward."