Seaham crash 'caused by lorry driver's coughing fit'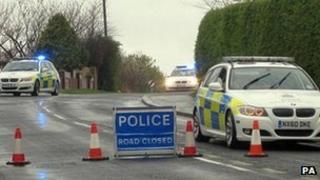 A lorry driver who had a coughing fit before a car crash which killed four members of the same family will not be charged.
The 42-year-old lost consciousness before the accident last April, the Crown Prosecution Service (CPS) said.
His truck collided with a Renault Scenic near Seaham, County Durham.
Robert Reed, 75, his wife Margaret, 74, their one-year-old granddaughter Destiny Simpson, and her mother Natalie, 18, were killed.
The lorry driver, from Hetton-le-Hole, was arrested on suspicion of causing death by dangerous driving after the crash by Sharpley Golf Club.
Golf course
He told police about the coughing fit immediately after the crash.
Separate independent medical tests revealed he had recently suffered a whooping cough infection and that his blood pressure dropped during fits, the CPS said.
Paul Lee, crown advocate for CPS North East, said: "I would like to extend our deepest sympathies to the families of those involved in this tragic incident, but I would hope that our decision brings some measure of closure to them."
Mrs Reed, of Houghton-le-Spring, died from her injuries at the James Cook University Hospital, Middlesbrough.
Mr Reed, who was driving the car, and Natalie and Destiny, from Fencehouses, died at the scene.
The lorry smashed through a hedge and ended up on the fairway of the golf course.