Axed Newcastle Hoppings to be replaced by new community event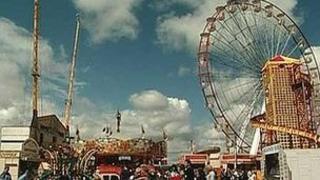 Newcastle's Hoppings fair which was axed after 130 years is to be replaced with a new event.
Last year the fun fair on the Town Moor only ran for a few days because heavy rain waterlogged the field.
Newcastle Council pulled the plug on this year's fair, then the Showmen's Guild cancelled it for good after a dispute over rent and pitch terms.
Now an alternative "broader appeal" event is being planned for August, which will may include a fair.
In March, the northern section of the Showmen's Guild voted to end the historic fair after a dispute with the Freeman of the City and the council, who manage the moor.
Guild spokesman Glenn Miller said cancelling the Hoppings was "devastating".
'Broader appeal'
He said: "The event is part of the heritage of the North East, but cannot run while issues are unresolved. It is devastating."
A council spokesman said the new event was still in the planning stages, but would have a "broader community appeal" with displays and farmers markets.
Councillor David Stockdale, who has responsibility for culture, said: "Apart from fair rides, it will also be an opportunity to showcase many of the region's assets and have an event for the good of the community while better managing the Town Moor which is an important asset.
"The Hoppings have been a popular event over the years, but now that they have been declared "out of order" we are taking this opportunity with the Freemen to create an event that offers more than just fair rides."