Janet Brown murder police search Tynedale farmland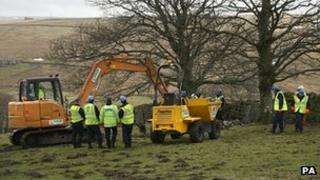 Police have been searching remote farmland for the body of woman who went missing eight years ago before she could claim her parents' £1m estate.
Janet Brown, who would now be 53, was last known to be living in the Lowgate area of Hexham.
Northumbria Police now believe she was murdered after inquiries in the UK and abroad yielded no results.
A 59-year-old Tynedale man was arrested on suspicion of murder in December and later bailed pending further inquiries.
Miss Brown inherited a £1m fortune from her parents, which has so far remained untouched.
The area being searched, near Sparty Lea in west Tynedale, covers about 40 acres and will take a number of weeks to search.
Police said Miss Brown loved to travel and for that reason friends were not concerned when she went missing.
Wearing fluorescent jackets, search specialists dismantled a dry stone wall at the farm.
It is expected the search could last for several weeks, with detectives drafting in experts in archaeology and geophysicists.
Det Ch Insp Nicola Musgrove said: "The police investigation commenced in 2009 after a report in relation to irregularities in the parents' bank account.
"As a result of that we started looking for Janet Brown and after extensive inquiries to try to establish where she was, we've come to a point that we believe that she's dead and this is now being treated as a murder inquiry.
"It has been a really difficult investigation. Since 2009 we've been trying to find some evidence that Janet Brown was still alive but I'm now satisfied that she is dead.
"Her parents are both dead and there is an estate but she has never claimed the estate.
"These searches will be detailed and it is not clear what, if anything, they will reveal.
"That's why we still need the public to get in touch if they have any information at all about Janet Brown's whereabouts over recent years."