Soldiers honoured for Afghanistan actions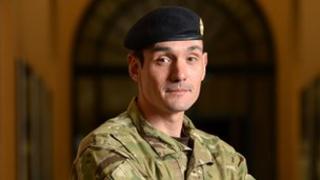 A soldier who risked his life to defuse roadside bombs and another who called a ceasefire when he saw children used as human shields have been honoured.
Sgt David Acarnley, 31, from Northumberland received the Queen's Gallantry Medal for rescuing colleagues when their vehicle struck a device.
Maj Martin Hedley, 32, originally from Gateshead, received an MBE for his actions in protecting the children.
They are among more than 100 recognised with military honours.
Sgt Acarnley, from Riding Mill, a bomb disposal officer with 11 EOD Regiment The Royal Logistics Corps, was called when a Danish vehicle hit an improvised explosive device in June.
The crew was trapped inside by a second device at the back of the vehicle and he worked to give them an escape route.
As he was doing that another soldier triggered a third device and he cleared a safe route so medics could reach the injured soldier before turning back to rescuing the crew.
He said: "I never really thought about the danger, I'm too laid back really. I searched my way towards the casualty using the detector and visual signs.
"But there's a different kind of pressure when you know someone is injured."
His citation said: "He has time and again demonstrated unstinting bravery in the face of multiple, complex and imminent explosive threats."
Maj Hedley, of The Royal Regiment of Fusiliers, volunteered to serve in Afghanistan with the 3rd Battalion The Rifles last year for his second tour.
He had been commanding an eight-man team when he found himself leading an Afghan company of more than 100 men after their commander was killed in battle.
The next day he led some of the Afghan soldiers into enemy territory when they came across insurgents firing from behind children and made the order for the ceasefire.
He said: "We are well trained to fire with the protection of the civilian population in mind, this is key to achieving success in Afghanistan.
"The benefits of targeting an insurgent are outweighed by the risk of wounding or killing a civilian."
His citation read: "Hedley kept the Afghans going in the dark days after their charismatic leader was killed in action; an impressive feat for a non-Afghan officer and a real testament to his sustained courage and leadership."