Lindisfarne Gospels Durham exhibition tickets go on sale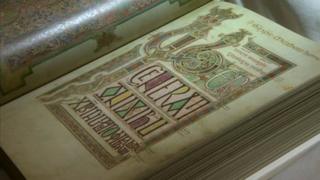 Tickets for a rare chance to see the 1,300-year-old Lindisfarne Gospels in the north-east of England have gone on sale.
A major exhibition will open at Durham University in July for three months.
The Gospels, created by monks on Northumberland's Holy Island in AD700, in honour of St Cuthbert, are currently in the British Library.
There has been a long-running campaign to return them to the North East permanently.
The exhibition, launched to coincide with St Cuthbert's Day, will also display Europe's oldest surviving bound book, the St Cuthbert Gospel, Anglo-Saxon artefacts and medieval manuscripts.
It will be the first time since the 16th century that the jewelled cross, travelling altar and sapphire ring found in St Cuthbert's coffin are shown alongside the Gospels.
Exhibition programme director Keith Bartlett said he believed it would be "the highlight of the regional cultural calendar".
"The exhibition has also fired the imagination of event organisers, artists, performers and communities across the North East," he said.
A three month programme of events will feature exhibitions, performances, concerts, pilgrimages and retreats.
The Lindisfarne Gospels contain the oldest surviving translation of the Gospels into the English language and are in almost perfect condition.
They were carried 1,000 miles around the region from Holy Island, with the body of St Cuthbert, for 200 years before reaching Durham Cathedral in AD995, where they remained until the Reformation.
The exhibition has been arranged by Durham University with Durham Cathedral, Durham County Council and the British Library.