Gateshead Flower Show axed in council budget cuts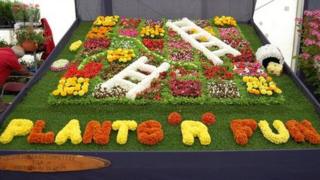 Gateshead Flower Show is to be axed, as part of the council's budget cuts.
The authority, which needs to make savings of £30m over the next two years, said it was not a decision it had taken lightly.
The annual show has been held for more than two decades and become one of the biggest horticultural events in the UK.
Other budget-cutting measures include the the loss of 224 jobs, volunteers to run five libraries, and charges for some previously free services.
These include bulky waste collection and pest control, but a decision on a 230% rise in allotment charges has been postponed.
Funding for Bill Quay Farm has also been cut, so it faces closure in July.
'Tough choices'
It was saved a year ago after pressure from local people who felt it was part of their community.
The council said it was facing "exceptionally challenging circumstances because of the Government's spending cuts".
Mick Henry, leader of the Labour-run council, said: "These are tough times and we have had some tough choices to make.
"But despite significantly reduced resources, we're determined to do all we can to support people in need and continue investing in the successful regeneration of our borough."