Newcastle Grosvenor Casino robbery: Stolen car used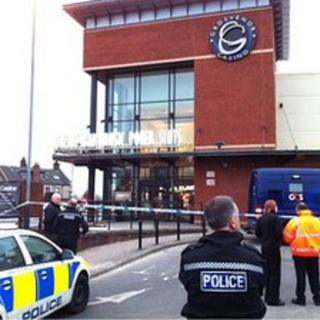 A getaway vehicle used by armed raiders who escaped with cash from a security van outside a Newcastle casino had been stolen two days earlier, police said.
Two masked men who brandished a shotgun at a security guard outside the Grosvenor Casino escaped with a "large amount of cash" on Thursday.
No-one was hurt and a white Audi Q5 was later found on fire in Gateshead.
Police said the 4x4, registration number NL61UDX, was stolen on Tuesday in Bedlington, Northumberland.
Rank Group, which owns the St James' Boulevard site, said none of its employees or customers at the 24-hour casino were hurt in the robbery.
Local accent
Northumbria Police said the robbers left the area in a second vehicle, believed to be a grey coloured BMW 320 estate bearing the false registration NE08VWG.
Both men wore dark-coloured ski masks and one spoke with a local accent.
Det Insp Steve Wouldhave said: "While no-one was injured it was obviously distressing for the guard.
"One focus of our inquiries is the white Audi Q5 and we want to hear from anyone who has seen this in the lead up to the robbery on Thursday afternoon.
"This is quite a distinctive vehicle and if anyone has seen one in their neighbourhood that wasn't there before I would encourage them to give us a call.
"This was a busy time of the day and I would appeal to anyone who was in the area at that time to get in touch."
Rank Group would not confirm how much cash was taken.