Green light sat-nav trialled in Newcastle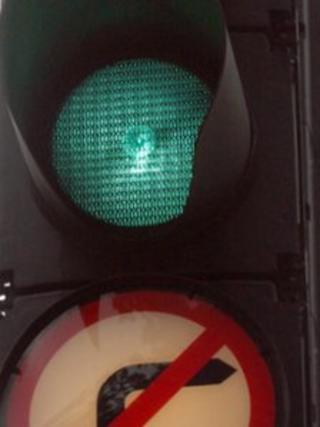 A sat-nav which tells drivers what speed will ensure they pass through a series of green lights is to be trialled in Newcastle.
The Compass4D project aims to reduce congestion and pollution caused by stop-start driving.
It will link cars to the city's traffic control centre and divert drivers away from traffic jams and accidents.
Newcastle University's Professor Phil Blythe said the trial was "unique" in giving information direct to drivers.
"The traffic lights can talk to cars, work out how long it's going to take to transit a road and then provide information back on what speed to travel to ensure that you pass through the traffic lights on green," he said.
'Quickly and safely'
"In more congested areas or particularly busy times of the day, then key roads might be given priority in order to keep the traffic flowing."
Drivers could also be warned about broken down vehicles or told if someone ahead has gone through a red light.
The Newcastle pilot - run by Newcastle University and the city council - is part of a project involving six other European cities in France, Denmark, The Netherlands, Greece, Italy and Spain.
UK project head Dr Yvonne Huebner said: "By creating a joined up information system for all road users we can give other users, such as the emergency services and bus drivers, information which can help them get to their destination quickly and safely."
Newcastle had been chosen because the city had "a long track record of making the city more intelligent using transport systems in order to keep the traffic flow moving", she said.
The university said it would be the first trial of its kind in the UK.