Durham Oriental Museum artefact theft: Pair in court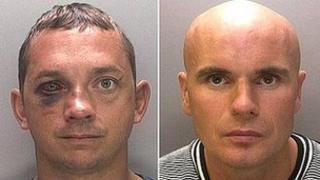 Two West Midlands men who admitted plotting to break in to a Durham museum to steal Chinese artefacts have denied smashing a wall and taking them.
The bowl and figurine, worth £1.8m, were stolen during a raid at Durham University's Oriental Museum in April.
Lee Wildman, 35, and Adrian Stanton, 32, both from Walsall, had previously pleaded guilty to conspiracy to burgle.
But a claim that they were recruited to help unnamed figures who carried it out was rejected.
A Newton hearing - or trial of issue - is now being held at Durham Crown Court to determine what role the pair played.
Wildman, of Remington Road, Beechdale, told Judge Christopher Prince that he and Stanton travelled to Durham at the behest of some men in Walsall who he declined to name.
Empty-handed
The pair went because they needed "to earn some money", but did not know what they were to be asked to do.
Once in Durham they met some people in a silver Mercedes at a car park, who asked them both to go into the museum.
"They said 'get any Chinese pieces for us you can'," Mr Wildman told the court.
However, security staff made him check in his rucksack so they were unable to break into any cabinets and take anything.
The court saw CCTV images which the prosecution claimed showed the men testing locks on the cabinets.
Wildman said that when they left empty-handed the men outside grew aggressive, so he offered to provide them with stolen cars.
When the prosecution put to him that he was a man "who had considerable experience of burgling", he said it was a long time ago.
"I have never been involved in stuff like this before," he added.
Stanton, of Telford Road, Walsall, said the men in Durham, who were "smart, wealthy-looking", instructed them to steal jade items.
"We were hoping to have something off but it was impossible."
Both artefacts, a bowl and figurine dating from the Qing Dynasty, stolen during the raid on the night of 5 April, were later recovered.
The hearing continues.