Newcastle private schools merger plan angers parents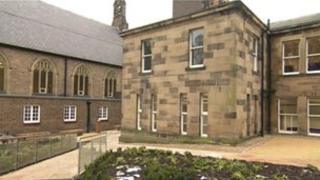 Two of Newcastle's oldest independent schools are to merge.
Central Newcastle High and Newcastle upon Tyne Church High, both in Jesmond, plan to form Newcastle High School for Girls in September next year.
Head of the new school Hilary French said: "Working together we'll be able to achieve much more for girls than we can in competition."
Some parents are angry about the merger and a lack of consultation, calling the move "hugely misjudged".
The new school will get substantial investment from educational charity the Girls' Day School Trust (GDST), although the schools deny the motive is financial.
'Shock and anger'
One parent of a girl at Central High, who wished not to be named, said she was "appalled" that parents and pupils were not consulted.
"Every single person I have spoken to, from both schools in fact, is equally shocked and frankly unhappy," she said.
"I know nobody who's welcomed it."
Another parent said she was "disappointed but looking to the positives" and thought it could be a "good opportunity to take the best from both schools", which date from the late 19th century.
Mrs French, currently head of Central High, said: "I understand it does come as a shock.
"It'll take time to work through to understand the implications but, as a lot of the girls and parents are saying to me already, it's exciting."
Head of Church High Joy Gatenby, who will act as executive advisor until her retirement in 2015, accepted some parents were angry.
"I don't think anybody likes change like this. It's perfectly natural that the first reaction is shock, possibly anger, and then a great deal of emotion and sadness," she said.
Mrs Gatenby added they would need the same number of teachers but some duplicated or surplus posts could be lost.
Girls aged 11-18 will be taught at the Church High site on Tankerville Terrace with younger pupils taught at Central High's newly renovated Chapman House at Sandyford Park.