'Zombie invasion' to hit north-east forests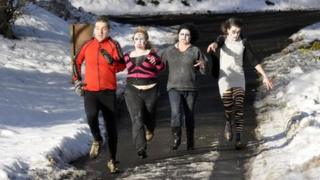 Three forests in the north-east of England are to hold "zombie running" events, where people are chased through the trees by costumed "flesh eaters".
Originating in the USA, the sport involves avoiding zombies along a three mile (5km) run with obstacles.
Alex MacLennan, from the Forestry Commission, said it was one of the "strangest" events it had ever hosted.
Runners must reach safe zones and keep tags on their belt, which represent lives, to complete the challenge.
'Get fit'
Race organiser Penny Hann said: "You don't have to run the whole way if you don't want to and zombies will be located at various locations to spring a nasty surprise rather than always [be] in hot pursuit.
"We will also have guides, called the Militia, out and about to ensure folk don't get lost. It's something weird, amazing and brilliant fun.
"As a way to get fit being chased by zombies has no equal."
The zombie runs will take place at Kielder Forest, in Northumberland on 9 February; at Chopwell Wood, near Gateshead on 16 February; and at Hamsterley Forest, near Bishop Auckland, on 2 March.