Landslip leads to Rothbury road closure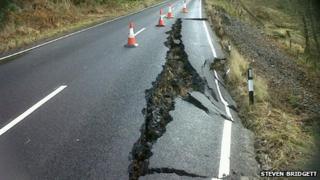 Motorists are facing disruption after a landslip caused sections of a main road into a Northumberland town to collapse.
Three sections of a 300m stretch of the B6344 at Cragend, Rothbury, have slid towards the river.
The stretch of road has been closed and engineers are inspecting it but said they could not fully assess the damage until the land stopped moving.
Northumberland County Council said it would need "a significant engineering solution".
It has set up permanent barriers to stop drivers using the road between Pauperhaugh and Rothbury and diversions have been set up. It said the road was likely to be closed for a number of weeks.
'Exceptional rainfall'
Councillor Alan Thompson said the landslip was first spotted on Boxing Day and engineers closed the road straightaway.
He said: "This speedy action ensured that members of the public are protected from what has become a very serious landslip which has since seen sections of the road slide towards the river.
"The problem will require a significant engineering solution after an investigation into the stability of the road and the adjacent embankments.
"We have seen exceptional rainfall during 2012 and unfortunately this landslip is one of the more serious implications."
He said they would work to find a problem to minimise inconvenience to people and businesses in Rothbury.
Rothbury councillor Steven Bridgett said his concern was the impact on business and tourism and he would push for the road repair to be a priority, with a long-term solution put in place, to help stop it from happening again.
He said: "I hope that it will also be possible to address the longer term issues on this road such as the underground springs and other subsidence issues."
He estimated the diversion would add 10 to 15 minutes to people's journey times.