Newcastle Oxfam shop 'thrilled' at £2,000 atlas sale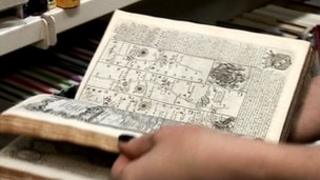 A 300-year-old book donated to a charity shop in Newcastle has been sold for £2,000.
A first edition of Britannia Depicta, which contains antique road maps, was handed over by a friend of a volunteer at Oxfam on Hood Street.
The hardback, which was published about 1720, was put up for sale after consultation on the asking price with specialist dealers.
Shop manager Morgan Williams said he was "thrilled" at the sale.
Mr Williams added: "It was sold to a local person, which is what we wanted.
"£2,000 for Oxfam can provide a clean water supply for a school in Asia or Africa, and feed a community after a disaster or an emergency situation.
"So these things can really change people's lives."
Rachel Pollock, who also works at the shop, said: "We do get some exciting books coming into the shop regularly, but we've never had anything this old or worth as much money."