Berwick maternity unit could reopen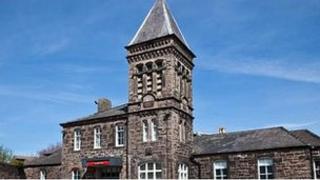 Midwives at a closed maternity unit will need to be on call or work shifts in busier departments if their unit is to reopen, a review has found.
The service at Berwick Infirmary was suspended in August because of low birth rates.
The closure sparked protests because the closest consultant-led unit is in Scotland, 40 miles (64km) away.
Now Northumbria Healthcare Foundation Trust has come up with options which could see the unit reopen in April.
The trust shut the unit because on average only one baby a month was being born there. It is a midwife-led unit which cannot cope with high risk births.
After carrying out a review, the trust has come up with two options. The first is to reopen the unit and rotate midwives to work at other busier hospitals to keep up their skills.
The second option being considered is to have midwives on call to supervise births in the birthing room at the hospital or to help with home births.
'Safety alone'
A statement from the trust said: "The extremely low number of births at the Berwick midwifery-led unit resulted in a lack of opportunity for midwives to gain enough practice and variety of clinical experiences, to be able to deliver a safe service.
"Both new options will require the mandatory rotation of Berwick midwives to a busier consultant-led unit, due to the low birth numbers in Berwick, which is unlikely to change.
"This is to make sure that Berwick midwives are able to regularly practise a full range of midwifery skills.
"Option two would operate a 24/7 on-call system for care during labour which would either be delivered at the home of the expectant mother or using a maternity birthing room in Berwick."
Janice McNichol, head of midwifery at the trust, said: "From the outset we have been very clear that this temporary suspension has been about safety and safety alone."