Terminally ill singer Maggie Ross in cancer appeal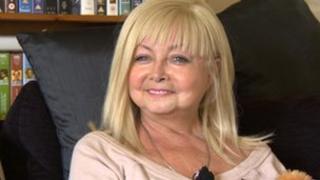 A singer who helped raise money for a Newcastle cancer unit more than 30 years ago is being treated at the centre.
Blues Singer Maggie Ross recorded a single for the Charlie Bear Appeal in 1981 and its sale helped raise £1m.
Now Ms Ross has been diagnosed with terminal cancer and is being treated at Newcastle's Freeman Hospital.
She said the unit is the "best" and is holding a fundraising party at the Washington Gardeners Club on 23 August.
The Charlie Bear for Cancer Care Appeal was launched by Daisy Clarke of Morpeth, and her husband, Charlie.
Sold teddy bears
Its aim was to buy the first CT whole body scanner for the hospital's Northern Centre for Cancer Care.
As part of the fundraising effort, a song, Come On In, was written by local composer Mike Bersin, which Ms Ross was asked to record.
Mrs Clarke and her husband also made and sold thousands of teddy bears with a team of volunteers.
Ms Ross was recently diagnosed with terminal lung and brain cancer and is receiving palliative radiotherapy treatment at the centre.
She said: "When I came for treatment I noticed the Charlie Bear fundraising shop.
"It is still raising money to provide the very best cancer treatment in the North East. I guess I thought it was fate.
"Over the years, I've had a fantastic career in the entertainment industry and met some wonderful, talented people.
"When I found out I had terminal cancer, I wanted to host a party for all my friends and family, just to have a good time and reminisce.
"It also seemed like too good an opportunity to miss to turn my party into a fundraiser."
There are no tickets for the party, and anyone can come and pay at the door.