Torrential rain hits North East roads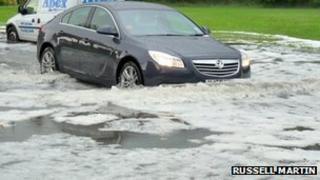 Motorists were warned to drive carefully after the North East was battered by torrential downpours causing flash flooding.
Thunder and lightning also hit the region on Sunday, but police said that most roads were passable with care.
The Coast Road in North Tyneside was waterlogged as were roads around the Galleries in Washington.
There was disruption on the Metro system with some services suspended for a time.
Gateshead, Central and Jesmond stations were closed due to flooding, with Jesmond reopening later.
Northumbria Police said there was some disruption to roads and transport with a number of roads in Gateshead, South Tyneside and Newcastle closed but later reopened.
The Swing Bridge, between Newcastle and Gateshead, was closed due to debris caused by the flooding and was expected to stay shut overnight.