Berwick Celtic war horn joins Olympic bell ringing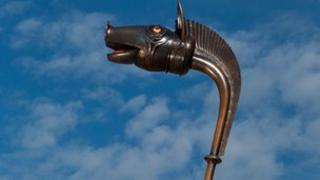 The eerie sound of a 12ft-high Celtic war horn marked the start of celebrations of the Olympics in Berwick-upon-Tweed.
The Carnyx was played in harmony with bells throughout the town beginning at 08:12 BST.
Starting outside the Tweeddale Press building, musician John Kenny played a specially composed piece on the horn as he walks through the town.
The Town Hall's bells were also rung for eight minutes.
The head of the Carnyx - which dates between 200BC and 200AD - is in the shape of a boar's head.
The bronze instrument is reconstructed, but its head is an original and was unearthed in Scotland.
Matthew Rooke, artistic director of the town's Maltings Theatre and Cinema, said: "Everyone was invited to gather on the High Street and show their community spirit by bringing - and ringing - bells of every shape and size."
Meanwhile, a bell which has not been used since the Queen's Coronation in 1953, was rung on board HMS Caliope on the banks of the Tyne at the same time.