Angel of the North creator Antony Gormley is Freeman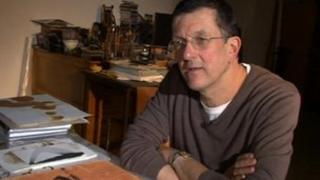 The awarding-winning sculptor and creator of the Angel of the North has become an honorary Freeman of Gateshead.
Antony Gormley received the honour at the Baltic Centre for Contemporary Art, for raising the profile of the town.
Mr Gormley, the 1994 Turner Prize winner, said: "I haven't been given the keys to any other city, so it's a wonderful first."
The art centre's founders Sune Nordgren and Alan Smith were also made freemen.
Mr Gormley was nominated by the council in March for his worldwide services to the arts, after playing a "major role" in raising the profile of Gateshead.
He said: "I'm sure I'm being given this because of the angel, but the angel is one of the many reasons that I continue to come back."
Mr Gormley designed the 200-tonne steel angel, which has overlooked the A1 in Gateshead since 1998.
The first director of the Baltic, Sune Nordgren was nominated for services to the arts on the international stage after ensuring the gallery took its place in the contemporary art world following its opening in 2002.
Founding chairman of the Baltic, County Durham-born Alan J Smith, was nominated for his distinguished services to culture, architecture and development regionally, nationally and internationally.