Car ban in run up to Durham Miners' Gala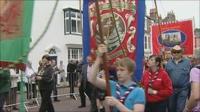 Cars are to be banned from the centre of Durham almost a full day before the city hosts the 128th Miners' Gala.
The annual event is expected to attract more than 50,000 to the city's old Racecourse on 14 July.
But Durham Police are, for the first time, to ban vehicles from much of the city centre from 18:00 BST on 13 July.
The decision comes as Ed Miliband confirmed he would be the first Labour leader to attend the gala since Neil Kinnock in 1989.
The gala, also known as the Durham Big Meeting, includes a parade through the city's narrow streets to celebrate the region's mining heritage.
Night out
Durham Police said it had opted for tougher traffic restrictions after some vehicles had to be towed away from central areas after being parked up the evening before last year's gala.
A force spokesman said: "No vehicles, not even pedal cycles, will be allowed in restricted areas on the day.
"An additional restriction brought in this year sees parking banned from 6pm the evening before in New Elvet, Old Elvet, Prison Green and Green Lane.
"The new measure has been brought in after a number of cars had to be towed away last year. We found several owners had parked up before enjoying a night out in the city and then returned the next day fully expecting to pick up their vehicles.
"Any vehicles remaining in the Elvet area after 6pm on Friday may be removed and it will cost owners a recovery fee plus any storage charges to get their vehicles back."