Harry Clasper: Tyne rowing legend remembered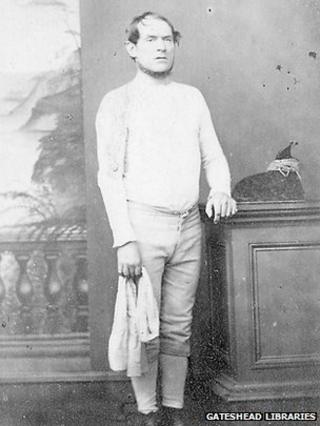 Harry Clasper, one of the leading lights of rowing on the River Tyne, was born 200 years ago on 5 July, 1812.
With Robert Chambers and James Renforth, he left his innovative mark on boat design and shared in notable victories.
But as his great, great nephew, David Clasper, recalls: "It was as one of the Famous Five brothers that he will be most remembered."
Harry Clasper was one of a family of 13 and had a humble background.
He began his working life down in the same Jarrow pit as his father when he was 15-years-old.
After realising he was unsuited to mining, he took up an apprenticeship at a boatyard as a carpenter.
It was there he learned the skills that would equip him for his development of the skiffs and sculls in which he would compete.
David Clasper said: "I've been brought up all through my childhood knowing and learning about Harry's rowing and I've written two books on his life.
"Sometimes I feel there's not much more I can add, but I've always thought that Harry's story would make a tremendous film or play - much like Billy Elliot.
"Harry started his competitive rowing at the age of 30 and I guess that his passion for streamlining the boats he rowed became a strong legacy for rowing today.
"It was often at big championship races on the Tyne and the Thames that competitors would gouge tiny rips in the boat hulls and I reckon that this is how the term 'skulduggery' came about."
Harry developed what was named the "Newcastle Oar", the handles of which overlapped on the draw, gaining a vital inch or two.
Mr Clasper sees the modern skiffs and sculls as owing so much to Harry Clasper and his contemporaries.
He said: "It was around this time the sliding seat was developed and along with the swivel rowlock and J H Clasper's fin-keel for poor water conditions, the boats are pretty much the same today."
Harry regularly rowed with his brothers in the boat named Swalwell.
In the 1845 Thames Regatta, Harry Clasper rowed to victory with his four brothers William, Edward, Robert and Richard as cox. They were nicknamed the "Famous Five".
They returned to Newcastle to a rapturous civic reception.
When Harry died in 1870, over 130,000 people paid their final respects at his funeral on the Tyne.
David Clasper and his family have a few mementos of the "glory days".
He said: "A few years ago we went to a local auction house which had a statue of Harry Clasper listed.
"We were lucky enough to buy it and it sits proudly at home today.
"We like to think that Harry owned it at one time, but that's for further investigation."