Gateshead Council reveals town centre homes plan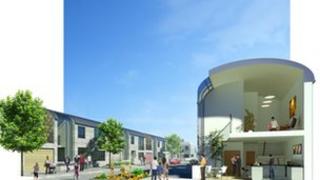 Gateshead Council has revealed plans to transform a large area of the town centre.
Covering 100 acres, the plans include public spaces and hundreds of family homes.
The brownfield development will stretch from the edge of the town centre to the Felling bypass and Sunderland Road.
Although primarily a residential development, a limited number of offices and shops are set to be included.
The land that is earmarked for the development includes large areas that are effectively derelict after the demolition of old buildings.
'Thriving community'
Most of the land, but not all, is owned by Gateshead Council .
Mick Henry, the Leader of Gateshead Council said: "This new community has the potential to create ideal new homes for thousands of people
"It encompasses the very latest ideas in urban living and could transform this area of Gateshead.
"This proposal is an innovative approach to meeting the needs of modern families in the North East and would turn underused space into a thriving community."
The first phase of development is likely to be on the former freight depot site adjacent to the Felling Bypass.
The whole development is expected to take around 20 years to complete.