Three cars stranded on Holy Island causeway in 24 hours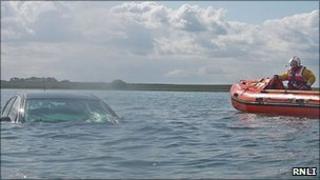 The coastguard on Holy Island has made a fresh plea to motorists about the dangers of the causeway's tides after three cars became stranded in 24 hours.
One car became stranded underwater about one-mile along the causeway on Monday. The second car was later stranded in about a foot of water.
The coastguard was then called out on Tuesday after a Rover was abandoned on the causeway at about 14:00 BST.
Coastguard station manager Ryan Douglas said people were "risking their lives".
The abandoned Rover was not reported to the coastguard until about 19:30 BST.
Mr Douglas said this could have caused a "massive rescue operation" over fears the four passengers of the car could have been swept away.
'Beyond belief'
He said: "The coastguard would really urge people to check tide times when visiting the coast because they are risking their lives.
"If people would check the tide timetables and remember to get off the island on time, that's the best solution I can urge people to do."
A trial of safety message signs were placed on the approach to the Holy Island causeway in April to prevent vehicles from becoming stranded.
The signs advised motorists of the dangers of the tides and also reminded them to check tide timetables.
Northumberland County Council is hoping to install permanent signs in the summer.
Councillor Dougie Watkin said: "For people to actually drive into two to three foot of water is beyond belief.
"The tide does not wait for anybody and we still have a few people finding that out."