Record hopes for Kielder Forest ospreys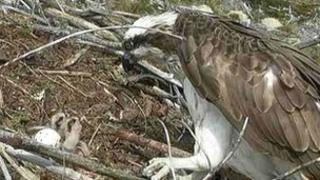 There are hopes that two pairs of ospreys nesting in Northumberland could raise a record number of chicks.
The female on the second of two nests in Kielder Water and Forest Park had been incubating three eggs, two of which hatched over the Jubilee weekend.
The first pair has already produced three chicks.
Breeding ospreys returned to the North East for the first time in more than 200 years in 2009 and since then three chicks have fledged each year.
Forestry Commission staff were able to watch the first birth on cameras at Kielder Castle Visitor Centre.
Over the weekend, volunteers further down the valley at Northumbrian Water's Leaplish Waterside Park welcomed scores of nature fans to view the older nest in the forest.
Kevin Hudson, leisure manager from Northumbrian Water, said: "If the weather holds fine, we have real hopes that this year could see a record number of English-born ospreys take to the wing in August."