Raoul Moat threat not acted upon by police or prison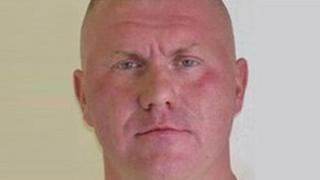 Warnings that gunman Raoul Moat had threatened to harm his partner were not acted upon, the BBC has discovered.
Moat shot and hurt ex partner Samantha Stobbart and killed her boyfriend after being released from Durham Prison.
A report on the threats went to various prison in-trays, while a prison warning to police was not acted upon and another not read, an IPCC report found.
Northumbria Police said it had received limited information and there had been no suggestion of a threat to life.
The inquest into Moat's death, which ended in September, heard the break-up with Miss Stobbart "was the catalyst for his murderous acts".
Inmate conversation
The 37-year-old had been in Durham Prison serving a sentence for assault when he made the threats.
An unpublished draft of the Independent Police Complaints Commission (IPCC) report, seen by the BBC, looked into the handling of the intelligence about the threats.
The report said that in a conversation with another inmate, Moat had made specific threats to shoot a number of people including Miss Stobbart and her new partner Chris Brown.
The inmate passed the information on to a prison officer, but could not remember the exact words he used, the report said.
It also said the inmate watered down the nature of the intelligence from serious threats to life to a threat of serious harm.
When the prison officer completed a Security Information Report, he wrote that Moat intended to "seriously assault" his partner.
Earlier the same day, on 1 July 2010, Moat had been released from prison.
Over the next 24 hours the Security Information Report was passed between various prison in-trays and read and signed by at least three senior officers, the BBC has learnt.
On 2 July, a probation officer at the prison passed on the intelligence by telephone to Northumbria Police's Public Protection Unit.
The IPCC report said a perceived conflict with police records regarding details of the identity of Moat's partner appeared to have frustrated any possibility of the intelligence being pursued with further police action.
The report said: "What remained unanswered was a threat by Raoul Moat that he was going to do serious harm to his partner whoever that proved to be."
'Absolutely fixated'
The same afternoon, the intelligence was emailed by the prison to the Northumbria Police Force Intelligence Bureau.
The email arrived at 16:15 BST on Friday. But staff had gone home after finishing their shift at 16:00 BST.
Ten hours later, in the early hours of 3 July, Mr Brown was shot dead in Birtley, Gateshead, and Miss Stobbart was badly injured.
A day later PC David Rathband was shot in his patrol car in Newcastle and blinded.
The IPCC report said there was no evidence of misconduct by two police officers.
Instead, their failure to follow procedure regarding a report of a threat of domestic violence was considered to be a performance issue.
Ch Supt Neil Adamson, of Northumbria Police, said: "Officers were faced with a very limited piece of information from Durham Prison.
"I want to make it clear from the outset at no stage did that ever suggest there was a real and immediate threat to life."
He said the information was not specific and officers had assessed and treated the information in the same way as they would have done with any report.
He said it was easy with hindsight to ask questions but said the IPCC report made it clear there had been no misconduct.
Mr Adamson said subsequent court cases and the inquest into Moat's death had showed "how absolutely fixated Raoul Moat was on causing this devastation".
He said: "To try and suggest that we could have prevented that I think is a step too far. I am convinced he would have done what he intended doing, such was his focus."
But he said changes had been made, including the force's Intelligence Bureau now operating around the clock.
A Ministry of Justice spokesman confirmed that intelligence had been passed to the police but said it would be inappropriate to comment further at this stage.