Royal Mail stamp features out-of-date Tyne Bridge photo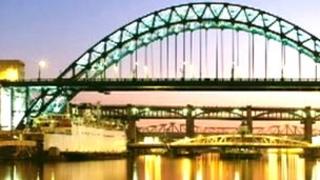 Royal Mail has admitted using an old photograph featuring a now-absent floating nightclub on a stamp highlighting Newcastle's Tyne Bridge.
The Tuxedo Princess, which featured a revolving dancefloor and was known to locals as "The Boat", left the River Tyne in 2008.
Graeme Peacock, a photographer in the city, said it was "laughable" that an out-of-date photo had been used.
Royal Mail said it was "not always possible" to use the most recent photo.
Mr Peacock said "a prestigious set of stamps" should have used an up-to-date picture.
'Modern image'
"It's laughable that a couple of checks at the research stage and all of this could have been avoided," he added.
Sarah Stewart, chief executive of the marketing organisation Newcastle Gateshead Initiative, said she was "delighted" the area had been chosen again to feature in a stamp.
She added: "Should Royal Mail look to mount another similar collection of stamps and wish to include an image from the local area, we'd be happy to share our extensive image library and put them in touch with some of the region's top photographers."
A Royal Mail spokeswoman said: "It is not always possible to use the most modern image for our stamps, but our aim was to provide as wide a variety as possible for the completed set.
"We chose the night time shot of the Tyne Bridge because even though it is from a photograph taken several years ago, we felt it perfectly captured the image we were looking for to complement the series."
The stamp is part of an A-Z series showing significant sights from around the UK.
Lindisfarne in Northumberland and the Angel of North in Gateshead featured in the first half of the collection in October 2011.