Metal thieves target Washington miners statue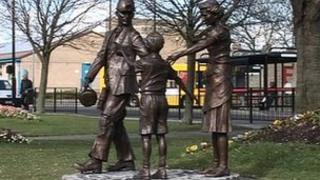 Metal thieves have targeted a statue just days after it was unveiled on Wearside.
The Washington Miner's Monument, a sculpture of a miner and his family, was opened to the public on Front Street, Concord, on Saturday.
Northumbria Police said someone had attempted to cut through the leg of the boy figure early on Tuesday.
The statue has been left damaged by the attempt and police have appealed for information.