Costa Concordia: Worker's 'surreal' swim to safety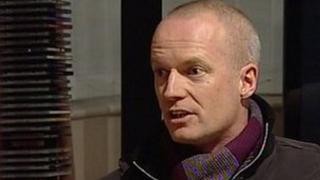 A Country Durham man who was on board the Costa Concordia has spoken about escaping from the stricken vessel.
Ian Fraser, who worked as a singer on the cruise ship, described jumping into the freezing water after feeling all other options had run out.
While swimming to nearby rocks he said he looked back over his shoulder and saw the funnel of the ship moving down towards him.
The whole incident was "dreadful and surreal".
Back at his home in Esh Winning, Mr Fraser said: "I was sitting in my cabin heard this terrible juddering sound.
"It was very clear something had gone wrong."
Later, he was on deck, with about 40 people, most of them passengers, and the lights went off.
"It was a complete blackout, that's when everyone screamed," he said.
"We were standing ankle deep in water, and it was clear we were running out of options.
"When the lights came back on everyone said, 'Right, go, now'. It was our window of opportunity."
Mr Fraser was wearing a life-jacket, but had lost his trainers.
"I was thinking 'What am I doing here'," he said.
"Two hours ago I was sitting in my cabin, now I'm swimming away to save my life.
"It was dreadful and surreal."
He said that he did not feel he was in a position to criticise the captain, who is currently under house arrest on suspicion of multiple manslaughter.
The loss of the vessel, however, he described as "devastating" particularly as he regarded it as his home.
"You get very attached to a ship," he said.
"You call it 'she', and when one of them dies a bit of you goes with it."