Northern Rock sale to Virgin Money welcomed in North East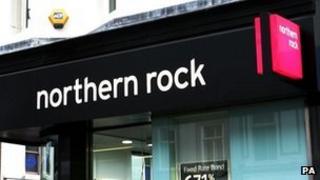 The sale of Northern Rock to Sir Richard Branson's Virgin Money has been broadly welcomed in the North East.
The leader of Newcastle City Council, Nick Forbes, said the bank's 2,500 jobs were "vital" to the region's economy.
North East Chamber of Commerce chief executive James Ramsbotham said the £747m sale was an end to three "incredibly turbulent years" for staff.
The Rock's charitable arm, the Northern Rock Foundation, said it looked forward to working with Virgin Money.
Virgin Money has pledged not to make any staff redundant for at least three years. Northern Rock has shed 3,000 jobs since it was nationalised in 2008.
Mr Forbes said: "I am delighted that jobs which are vital to the North East economy have been safeguarded.
"The decision by Virgin Money to make Newcastle their home sends a message of confidence in our city and the wider North East.
'Significant milestone'
"Despite its restructuring in recent years Northern Rock remains a critical part of the very fabric of the North East and a major employer of quality professional staff.
"I am also delighted that Northern Rock's charitable arm, the Northern Rock Foundation, which has made a major contribution to the region over many years, will continue to give a percentage of its profits to good causes."
Mr Ramsbotham added: "The announcement is a significant milestone for the company, having endured three incredibly turbulent years and undergone complete restructure.
"Hopefully this announcement will bring stability back to Northern Rock and help restore public confidence in the banking sector."
David Fleming, Unite national officer said: "After three years of turmoil and upheaval for the workforce, we hope that today will be the start of a secure future.
"It is now vital that Virgin Money gives us firm guarantees that the 2,500 Northern Rock workforce is protected. "
Alastair Balls, chairman of the Northern Rock Foundation, which gives grants to good causes in the North East and Cumbria, said: "We look forward to working with Virgin Money and hope this will result in an enduring and expanding role for the work which the foundation has pioneered over the past 14 years.
"We had an initial discussion about the relationship that the foundation and Virgin Money might have in future.
"We are both committed to seeking to establish an on-going relationship that will enable the foundation's work tackling disadvantage and improving quality of life to continue to have a significant impact on the lives of vulnerable people."