Kevan Thakrar trial: Frankland guard 'feared for life'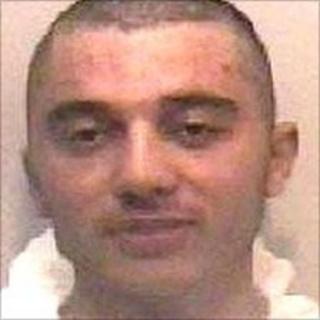 A guard told a court she thought she would die during an attack by an inmate at Frankland Prison in County Durham.
Claire Lewis said she saw Kevan Thakrar, 23, from Hertfordshire, attack a colleague with a broken bottle.
She was then stabbed in the back and left with glass embedded near her spine, Newcastle Crown Court heard.
Thakrar denies the attempted murders of officers Craig Wylde and Ms Lewis and the wounding with intent of a third guard, Neil Walker.
The 23-year-old, from Stevenage, who is serving life for a triple killing, said he acted in self defence in a "pre emptive strike" after being warned he could be attacked by the guards.
Ms Lewis said that on the morning in March 2010 she had gone to Thakrar's cell with fellow officer Craig Wylde.
As she unlocked the door he grabbed it and shouted, giving her "a shock" and causing her to step back.
'Blood spattered'
She said she saw Thakrar stab her fellow officer, before shouting: 'I'm going to kill you', at her.
"I knew I just had to run and try to get away from him", she added.
Speaking of being injured, she said: "I could feel the blood rushing out. I thought I was going to die."
A third officer, Neil Walker, told the court that he went to investigate after hearing a woman scream and the alarm bell sound.
He said: "When I came up I saw blood splattered up the walls, on the floor, all over the place.
"Officer Lewis was running towards me, as fast as she could.
"The prisoner Mr Thakrar was chasing her and my first thought was to get in front of her and stop him getting to her."
He managed to restrain the prisoner who hacked at his face, head and body.
It was only when Mr Walker was taken by colleagues to the staff room that he realised how badly he had been injured.
The officers denied allegations there was a "culture of racist abuse" among guards at the high security prison.
The trial continues.