Inmate Kevan Thakrar denies trying to kill Frankland Prison guards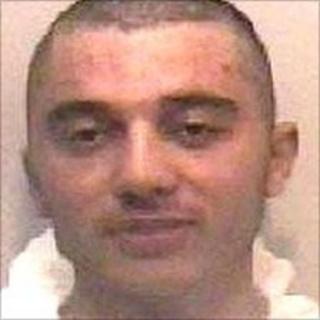 A convicted killer attacked three prison officers with a broken bottle after claiming he was about to be beaten up in his cell, a court heard.
Kevan Thakrar, 23, plotted to lure the guards to his door at Durham's Frankland Prison before springing on them, Newcastle Crown Court was told.
Thakrar, from Stevenage, Hertfordshire, denies attempted murder and wounding with intent last March.
The three officers suffered serious slash and stab wounds.
Thakrar denied the attempted murders of officers Craig Wylde and Claire Lewis and the wounding with intent of a third guard, Neil Walker.
He claimed he attacked the officers in self defence in a "pre-emptive strike" following ill-treatment and abuse at the high security prison, the jury heard.
Thakrar was jailed in 2008 for three murders and two attempted murders.
He was admitted to G Wing at Frankland in March 2010, where the court heard he told a guard: "I would advise you to get off this landing because I am going to be a nuisance and I am going to be ringing the cell bell all the time."
The jury were told he used the broken end of a 285ml glass bottle of hot pepper sauce he had hidden in his cell.
The court heard Thakrar had asked to see the prison nurse and lashed out when guards came to escort him.
He stabbed Mr Wylde in the chest, then slashed into his armpit and left arm, severing nerves and an artery.
When the officers turned and ran, Thakrar followed Ms Lewis along the prison landing and plunged the broken bottle into her back, narrowly missing her spine.
He then slashed Neil Walker across the face, head and torso.
Tim Grittins, prosecuting, said: "His clear intention was to kill each of them.
"He calmly and carefully lured the officers to his door having armed himself with that item with the intent of doing fatal damage and violence to those officers."
Thakrar claimed each of the officers had assaulted him during his time at Frankland.
The trial continues.