Turner Prize to boost Tyneside profile as thousands visit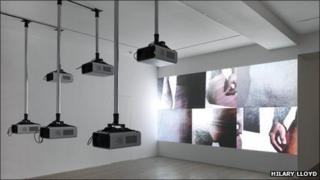 Thousands of people are expected to visit the north-east of England over the next few months when a prestigious art award comes to Gateshead.
For the first time in its 27 years the Turner Prize is being held outside a Tate venue, at the Baltic Centre for Contemporary Art.
It draws in people from all over the world, as one of the Europe's most recognised awards for contemporary art.
Tourism bosses hope it will attract large numbers of visitors.
Claire Byers, Deputy Director at the Baltic said: "It's fantastic because once again the region in a way is punching above its weight.
"To have something with such national and international media prestige in the region is great."
In 2007 the prize was staged at Tate Liverpool for the 2008 European Capital of Culture.
It was then decided it would be presented at a gallery outside London in alternate years after its success in Liverpool.
Claire McColgan, Liverpool's Director of Culture said: "I think for every pound that was spent we got £4 back.
"I don't think what you can (measure) is the long-term economic benefit of how it changes the perception of places within people's minds."
The North East is now hoping for similar visitor numbers when it opens in Gateshead on Friday.
"This show will undoubtedly attract many visitors, further boosting our tourism economy and, importantly, will be another great opportunity for local people to engage with some of the most exciting contemporary art around," said leader of Gateshead Council, Mick Henry.
Liverpool attracted 72,000 visitors and an estimated £1.5m into the local economy.
'Anticipation and excitement'
This year's shortlisted artists were announced in May as Karla Black, Martin Boyce, Hilary Lloyd and George Shaw, with the winner to be announced on 5 December.
Previous winners of the prize have included Gillian Wearing, Antony Gormley, Damien Hirst and Steve McQueen.
The Turner is known for its role in provoking debate since it was established in 1984.
Sarah Stewart, chief executive of NewcastleGateshead Initiative said: "We're expecting thousands of people to visit the exhibition during this period.
"The anticipation and excitement around this particular event will no doubt have a positive impact on Baltic's visitor figures."
Whatever the outcome of the prize, the region's and the Baltic's profile is sure to be boosted both nationally and internationally with the vast amount of media coverage.
Ms Byers said: "There are people from all round the world that travel to see the Turner Prize and sometimes it's difficult to see significant numbers coming out of London and I think this is one that really will do.
"It's very difficult to put pounds, shillings and pence on, but there definitely will be more people coming to Gateshead, coming to the region and more people travelling on trains and staying over.
"It is absolutely great for Baltic, great for Gateshead and great for the region."
The Turner Prize runs from 21 October 2011 - 8 January 2012 at the Baltic Centre for Contemporary Art.