Newcastle protester leaves Jarrow March for new job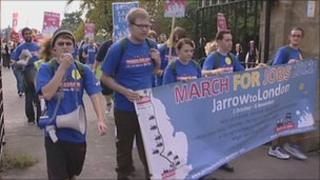 A protester from the re-enactment of the 1936 Jarrow March has abandoned the group's employment campaign after getting a job.
Paul Phillips, 22, from Newcastle, set off on Saturday 1 October with hundreds of young people to march from Jarrow in South Tyneside to London.
He has left the march just one week in after getting a job in a call centre.
Campaign group Youth Fight for Jobs wants action to help almost one million 16 to 24-year-olds out of work.
Mr Phillips said: "This whole march for jobs, was not just a march for jobs, but a march against the cuts and the current ConDem government.
"It was very close to my conscience and very close to what I believe in but I thought it would be very ironic if I'd turned down a job to go on a march for jobs."
He said he was now doing as much as he could from the north-east of England to help support the march.
It marks the 75th anniversary of the original Jarrow March in 1936, when 200 jobless men marched on the government with a 12,000-name petition calling for employment help.
It will finish in London with a demonstration on 5 November to protest against the high levels of youth unemployment.