Jarrow group funds traffic charges for repeat Jarrow march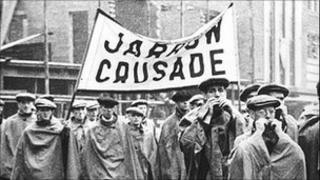 A group of young unemployed people aiming to repeat a 1936 march from Tyne and Wear to London have been given a grant to help pay traffic charges.
Youth Fight for Jobs, which is marching from Jarrow to London on Saturday, had been facing charges of about £2,500 to cover road closure costs in Jarrow.
However, Jarrow and Boldon Community Area Forum have agreed to pay the grant to allow the march to go ahead.
It marks the 75th anniversary of the original Jarrow March.
The campaign group organisation is calling for action to help 16 to 24-year-olds who are currently out of work.
Labour-controlled South Tyneside Council said it was necessary that march organisers paid for a traffic regulation order to cover road closure costs.
A council spokesman said: "The council has a responsibility to ensure there is a traffic regulation order in place for events of this nature.
"Any outside body that needs a temporary traffic regulation order is required to pay a standard fee of £2,230.20 excluding VAT; this has been the council's policy for several years.
"As the organisers were unwilling to pay the costs for the traffic regulation order members of the Jarrow and Boldon Community Area Forum have agreed a £2,500 grant to meet this cost."
In 1936, 200 jobless men marched on the government with a 12,000-name petition calling for help.