Moat shot himself 'after' being hit by non-approved Taser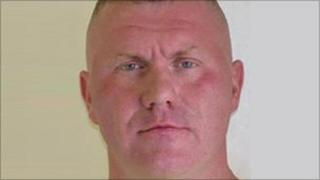 A police firearms tactical officer has told an inquest how gunman Raoul Moat shot himself in the head after being hit by a non-approved Taser.
The officer, identified as A10, told the Newcastle hearing that officers had to act when Moat, 37, moved a shotgun to his temple during a stand-off.
He said the primary objective was to keep Moat alive to face justice.
Moat was cornered in Rothbury, Northumberland last July after killing one person and injuring two others.
The officer, who was granted anonymity by the court, said using the unlicensed Extended Range Electronic Projectile (XREP) Taser gun during the six-hour standoff was the equivalent of the "last chance saloon".
His log recorded: "An officer deployed an XREP, which hit Moat, who fell, and after falling, discharged his shotgun into his temple."
Another firearms officer told the inquest that only five minutes' training was given to officers at the scene who used the new experimental Tasers.
Ideally they would have been in a classroom, with time to practise on the range.
Sgt David Hudson, a bronze commander who relayed information to superiors, said: "It was this (the XREP) or nothing.
"This was the best we could do."
The jury has heard conventional handgun-style Tasers could not be used as they did not have the required range.
Moat went on the run last July after shooting and injuring his former girlfriend, shooting dead her new partner and shooting and blinding a policeman.
Northumbria's Assistant Chief Constable Steve Ashman, who was in charge of the operation to catch Moat, has already admitted breaking rules to allow the use experimental weapon as he felt it was his "one chance" to catch the fugitive.
Moat sparked a week-long manhunt after shooting dead Chris Brown, his ex-girlfriend Samantha Stobbart's new boyfriend.
He also shot Miss Stobbart, critically injuring her, and later shot PC David Rathband, 43, twice in the face, blinding him.
The inquest is expected to last a further two weeks.