Tyne Tunnel charges made free for motorcyclists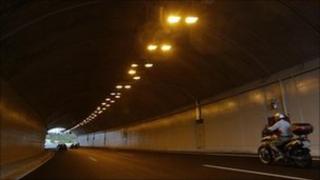 Motorcyclists using the Tyne Tunnel will be able to travel through toll-free from Monday.
In order to reduce delays at the toll booths, the present charge of 20p will be lifted by the Tyne and Wear Integrated Transport Authority (TWITA).
From next week, the barriers will automatically lift on their approach to the toll plaza - freeing up traffic.
The new two-lane road tunnel, from Jarrow to East Howdon, came into operation on 26 February.
Paul Fenwick, from TWITA, said: "The authority has been sympathetic to the case for motorcyclists to use the Tyne Tunnel without paying a toll and it agreed at its meeting in August to abolish it for this class of user.
"The physical difficulties motorcyclists encounter when using the tolls, for example the need to take off gloves to find the right coins, often meant delays for other motorists."
The financial impact of the change will be small, with revenue from the 157,000 motorcycle transactions in 2010/11 only 0.26% of overall Tyne Tunnel revenue.
The announcement comes months before the second vehicle tunnel is due to come into operation in January 2012.
From then, the new tunnel will accommodate only southbound traffic and the original tunnel only northbound traffic.