Raoul Moat inquest: Gunman shouted 'shoot me' to police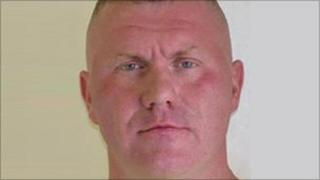 Gunman Raoul Moat shouted "shoot me" at the first police officer to confront him, an inquest has heard.
Moat, who was cornered in Rothbury, Northumberland last July after a week-long manhunt, was holding a sawn-off shotgun to his own head at the time.
Giving evidence anonymously from behind a screen, the officer said he and a colleague talked to Moat for 25 minutes until negotiators arrived.
Moat eventually shot himself following a six-hour stand-off with police.
He had gone on the run after critically injuring his ex-partner, Samantha Stobbart, killing her new boyfriend, Chris Brown, and shooting PC David Rathband in the face, blinding him.
The officer, of West Yorkshire Police, told the inquest in Newcastle that when he arrived on the scene with his colleague he shouted: "Armed police drop your weapon."
But he said Moat swore and repeated "shoot me".
The inquest heard that Moat then went on to express hatred of police, but his tone seemed to change when he was told they were not from the Northumbria force.
'Not an idiot'
"I seem to recall he actually apologised and recognised we had different accents," the officer said.
He then told the inquest how negotiators encouraged Moat to give himself up, and he took up the offer of a sandwich and a bottle of water, but kept the gun pointing at his own head.
A recording of a police negotiator urging Moat to give himself up was then played to the jury.
Identified only as A3, the negotiator said: "You are an articulate man, you are not an idiot, somebody who thinks everything through before it happens.
"Tell us who the real Raoul Moat is, the man who's going to put that gun down and tell us everything that has happened."
The negotiator also said: "I don't want you to accidentally shoot yourself. That's the last thing that everybody here wants to happen."
The inquest, in Newcastle, is expected to last for four weeks.