Lifeboat crews rescue man and dog during Harbour Day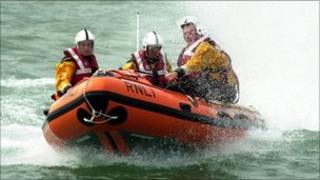 A man and dog were rescued by an RNLI crew in north Tyneside after getting stranded at the bottom of a 70ft (21m) cliff during a lifeboat event.
The man was walking along a cliff at Hartley Bay, Cullercoats, in north Tyneside on Saturday when his dog Ruby slipped and fell to the bottom.
He tried to rescue his nearly-blind pet, but got trapped at the foot of the cliff due to the rising tide.
Crowds on the beach watched the rescue unfold at the annual Harbour Day event.
Both were unhurt after being rescued by Cullercoats RNLI lifeboat crew and members of the Tynemouth Volunteer Life Brigade.
A member of the public from Durham, who was at the event, said: "It was great to see for real the great work these RNLI volunteers do to help both humans and animals without thinking about their own safety.
"I have supported the RNLI for many years and it was really impressive to see how quickly they launch the lifeboat in an emergency."
The annual Harbour Day fundraising event is in aid of the lifeboat charity.