Alnwick Garden's Himalayan lilies ruined by heavy rain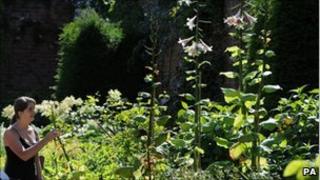 Gardeners faced a major blow after rare flowers which take seven years to bloom were ruined by storms.
The Himalayan lilies had been cared for by staff at Alnwick Garden, in Northumberland, since 2004 in anticipation of long-awaited blooms.
Head gardener Trevor Jones said heavy rains since the weekend had ripped most of the flowers from their stems.
He said they had started coming into flower at the beginning of last week and would have been a summer highlight.
Mr Jones said: "I'm a bit gutted.
Staggered replanting
"Normally they would be in flower for about three weeks but not this year.
"They started coming into flower at the beginning of last week but the heavy rains have decimated them.
"They would have been one of the highlights this summer but we have more coming next year."
Gardeners said they would stagger replanting of the lilies in the hope of a display every year.
The flowers grow in woodland clearings at altitudes of between 1,500m and 3,600m (4,921ft to 11,811ft).
The plants can reach up to 4m (13ft) and carry up to 20 flowers on each stem.
The bulb takes about seven years to flower from the seed and dies after flowering.